Works
Just before Christmas, 1930, a woman walks up to the teller demanding money. Lt. Lewis and his crew from the Poplar Street precinct attempt to find the gang and trace their connection to an even larger operation before the New Year.
Columns that originally appeared in The Brooklyn Daily Eagle about the history and philosophy that developed contemporary Brooklyn.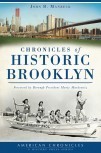 Essays about Brooklyn excerpted from Manbeck's weekly columns in "The Brooklyn Daily Eagle." Arranged thematically on neighborhoods, sports, services, Battle of Brooklyn, transportation. Introduction by Eagle publisher J. Dozier Hasty.

Crime novellas set in Brooklyn Heights in 1930s. Includes "Death on the Rise", "The Disappearance of Patricia Murphey", "Skeleton in the Attic" & "Brooklyn Bank Heist": "...a good read for all those who like old-fashioned detective and crime fiction." Brooklyn Daily Eagle
Two researchers uncover a mystery that baffles the staff of the Long Island Historical Society as well as the police. A mysterious and uncatalogued skeleton appears in the attic. Was it a warning? The case weaves history, murder and racial prejudice into a yarn that threatens the two young women researchers.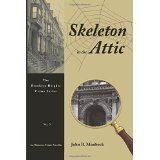 The disappearance of the attractive Brooklyn College student aroused fear or abduction and possible white slavery in her parents but suspicion in the mind of Lt. Jared Lewis of the Brooklyn Heights police precinct. The novella traces the search from the stately Hotel Margaret to the seedy waterfront below with a climax on Montague Terrace.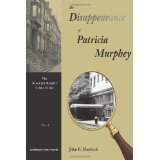 Her scream stunned the residents of the Brooklyn residential neighborhood. Prohibition and The Depression had already rocked Brooklyn Heights. But now it was murder and up to a police lieutenant, a sergeant and a private detective to unravel the mystery at The Remsen Hotel. "...delightful little noir story...well written and great reading fun." Regina Fagin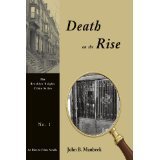 Multi-page descriptions of over 90 neighborhoods in the Borough of Brooklyn with pictures, maps, historical highlights, and community data. Original hardback publication published in 1992. Revised paperback edition published in 2004. Reviewed on cover of "The New York Times Book Review," Dec. 13, 1998. Published by Yale University Press/Citizens for NYC.



Black and white photographs of Brooklyn from mid-nineteenth century to 2000. Divided into five decades with descriptions of historic locations. "A wonderful new book"-pardonmeforasking.blogspot

The preparation, construction, celebration and history of America's most famous bridge and the Roebling family that built it. Photographs celebrate its endurance and centennial birthday of this American icon. "Just beautiful to look at." David Chan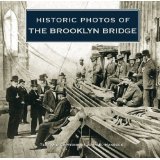 Essays by film scholars of movies that reflect Brooklyn character and the borough's place in cinema. Illustrated. With Brooklyn filmography, foreword by Pete Hamill and introduction by Eli Wallach, both Brooklynites. "Scholarly but fun and fact-filled." NY Daily News